:: a closer look at SOTERRA ::
Surfacing Products International (SPI), manufacturers of the Soterra Natural Stone Surface system, approached us with the goal of brand extension. They had developed a new logo and identity system for Soterra with the goal of worldwide distribution. As they expanded into new products, new markets, and new dealer relationships, they wanted to ensure that all customer touchpoints were met with the same look and feel.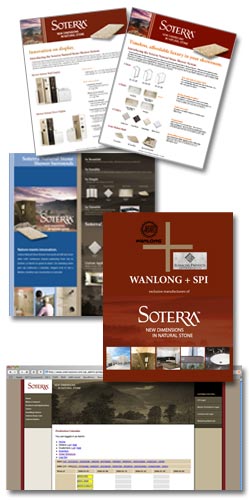 Listen
Step One in this and any multi-disciplinary engagement is to gain a complete understanding of the client's goals, both immediate and long-term. We set up multiple meetings with the stakeholders at SPI to get a look at what they've done in the past and what they're doing now, from a marketing and overall business perspective. These meetings were almost exclusively information-gathering, what some firms call Discovery.
We discovered that SPI had executed some very disjointed marketing efforts in the past, but were definitely heading in the right direction with Soterra, which they intend to brand as a cohesive system of natural stone products. With the new logo and identity system in place, it was our job to determine how best to extend that brand into all of their marketing materials, and to create a plan to help them determine which materials should be produced. Before that, though, we needed to ensure that we, and they, had all the tools necessary to execute this plan. We held multiple photo shoots to get great custom shots of the Soterra products in place in a home, as well as in a photo studio environment.
Execute
SPI is in a common situation of needing to market to both the public (consumers) and to their distribution network, which itself is divided into Master Distributors (MDs) and the dealers who buy from them. Three audiences, each with its own needs, each requiring different messages.
We designed the consumer-facing literature to be full of rich photography, showing the product as well as emotive background scenery. Consumers want information, but don't want to read a text-heavy brochure.
The dealer pieces have focused on sell-through: showing the dealers that SPI is here to help them sell the Soterra system to their customers. We've created sales sheets to help the distributors sell Soterra displays to their dealers, and have created consumer-facing pieces to help the dealers sell the Soterra products direct to their customers.
Additionally, we created a Distributor-only portal on their web site to allow MDs to log in and place bulk orders for product. They can then track their orders from the factory in China to the port in China to the port in the US to delivery. Significant added convenience for MDs, significantly decreased hassle for SPI staff.